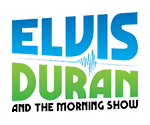 Elvis Duran
Elvis Duran and The 95 Triple X Morning Show wakes you up laughing every morning with Celebrity Interviews, Greg T's Topic Train, Phone Taps and more!
What We Talked About
Participate in Greg T's crazy antics! This week he's babbling about rating yourself in sex, opening other people's mail and more!