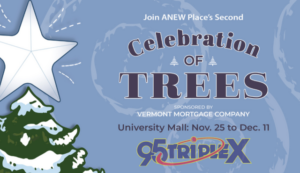 Join ANEW Place's Celebration of Trees, sponsored by Vermont Mortgage Company! 
This fundraising event will feature beautifully decorated trees on display at the University Mall in South Burlington next to the American Eagle and will take place between November 25th and December 11th, 2022. 
The proceeds will empower our organization to continue equipping those experiencing homelessness in the Greater Burlington Area with the tools for lifelong change. Visit their website for information on how to volunteer, donate, become a sponsor, or purchase raffle tickets.