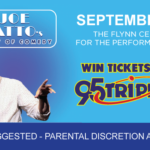 Joe Gatto is a well-known comedian, actor, and producer best known for the hit TV shows Impractical Jokers and The Misery Index. He is one of the founding members of The Tenderloins comedy troupe who has toured with a live comedy show to sold-out crowds across the world, including at legendary venues such as Madison Square Garden and the O2 Arena in London.
Text the word "Jokers" to 1 Triple 8- 805-95-95 for your chance to win tickets to see Joe Gatto of the "Impractical Jokers" at the Flynn Theater on September 18th. 
If you would like to guarantee your seats and not leave it up to us to pick you as the winner, please, by all means, purchase your tickets here!