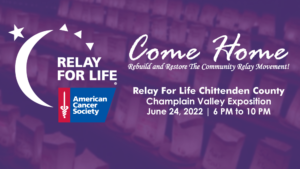 Join Vox AM/FM and 95Triple X's Team "Radio Voices for Relay" at The American Cancer Society's Relay For Life – BACK at the Champlain Valley Fairgrounds – Saturday, June 24th, from 6 PM to 10 PM!!!
This year's theme is "Come Home" – Rebuild and Restore The Community Relay Movement!
Opening Ceremonies are followed by the Survivor / Caregiver Lap! The Luminaria Ceremony is at 9 PM.
Join 95Triple X's as we introduce the Team's during the first Team lap of the Relay. There will be Live Music, Fun Games, and more.
The Relay For Life is The American Cancer Society's biggest fundraising event in the fight against Cancer!
You can donate to our team by CLICKING HERE.
You can also start your own team and get more info on this year's relay by CLICKING HERE.