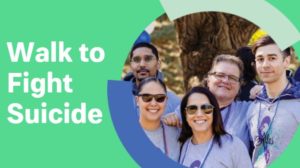 At 95 Triple X, we are proud to partner with the American Foundation for Suicide Prevention. Suicide has impacted all of us in one way or another, and for the month of September, we ask that you help us raise awareness. Walk with us on October 16th at Battery Park for the Out of The Darkness Walk, and unite with the American Foundation For Suicide Prevention and us in our effort to fight suicide, raise awareness, and educate our communities. Click here to register for the walk or donate at the AFSP Burlington today!
What are some of the warning signs that someone is thinking of suicide?
Isolating from friends, families and activities

Statements of hopelessness, helplessness or worthlessness

Giving away possessions or unusual visits to friends or family to say good-bye

Making statements about wanting to die or ending it all

Having a history of attempts of suicide

Exhibiting signs of depression or drastic changes in behavior or appearance
If you are struggling with thoughts of suicide, you can also get help by calling the Suicide Prevention Helpline at 988 or 800-237-8255.  You can also text TALK to 741741 or go to their website at SuicidePreventionLifeline.org.
You can also call the Howard Center Crisis Line at 802-488-7777 or visit their website at HowardCenter.org.